While my bald avatar mollyw languishes in Second Life, I'm back here to announce that not only will the winner of my current contest win a $25 gift card to Eden Fantasies — fantastic online purveyor of sex toys, sex books, sex everything —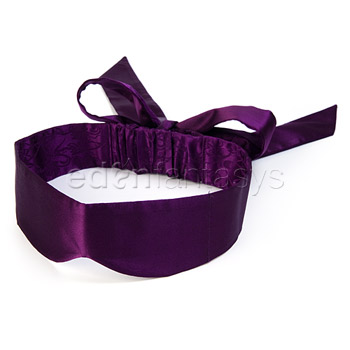 but that Eden Fantasies has upped the ante by adding a prize of their own: their Intima Silk Blindfold, available in red, black, or purple.
While Cleis Press, publisher of Carrie's Story and Safe Word (the erotic novels I wrote as Molly Weatherfield), has also donated one book of your choice, from their wide-ranging list of erotica and other smart, provocative titles.
This all being in celebration of Eden's upcoming Naked Reader Book Club discussion of my erotic novel Safe Word (w/a Molly Weatherfield and one of my favorites of all my books).
The discussion will be next Tuesday night, September 13 at 8-10 PM EST (that's 5-7 PM PST, my time, in California) — and I'm going to stop in sometime as well. The link is at http://www.edenfantasys.com/sex-forum/clubs/naked-reader-book-club/naked-reader-book-club-19/ and leave yourself time to log in, register, or whatever.
Please do come! I've got such great feedback from my (and Molly's) readers over the years; I know you'll love the folks you meet.
And who knows? If you've ever wondered what I do in my other writing life (or if you think you just might find something over there on the wild side to tickle your fancy), you can enter the contest right now, by going to my contest page at http://pamrosenthal.com/contest2.php, and answering the (as it happens) PG-rated question based on Carrie's Story, the book that started it all and that is now in its fourteenth printing.